How to get free ebooks – introduction to Bookbub
This post takes a look at how to get free ebooks by using BookBub (bookbub.com referral link) and its service, especially the BookBub daily deals.
---
For those who prefer to watch something, please watch this 'How to get free ebooks' video of this post here.
---
In a previous post, I looked at modern language learning aids and noted that reading was a very good resource.
We now take a closer look at a way of getting heavily discounted ebooks to read.
By the way, you don't need a physical Kindle to benefit from ebooks. You can download a free app that enables you to read ebooks on virtually any device. Just use the search engine of your choice and look for "kindle app" if you need a place to start.
---
What is BookBub?

Ebooks, like many other products, are subject to special offers. It would appear that the prices for ebooks fluctuate over the course of time.
BookBub is a website that informs you about the currently discounted ebooks, based on your preferences. Please note that "heavily discounted" is not an exaggeration, as the discount is often 100% – i.e completely free.
Authors will pay BookBub to promote their books to their millions of registered users. It should also be noted that BookBub only recommends around 20% of the ebook submissions, which means that you will receive quality recommendations.
---
How does BookBub work?
When you first access the BookBub website, you see a screen similar to the image above. In order to use the service, you need to provide a valid email address. This email address will be used to inform you of the current offers.
You can then specify which authors and/or categories you prefer to read. This screenshot shows the categories.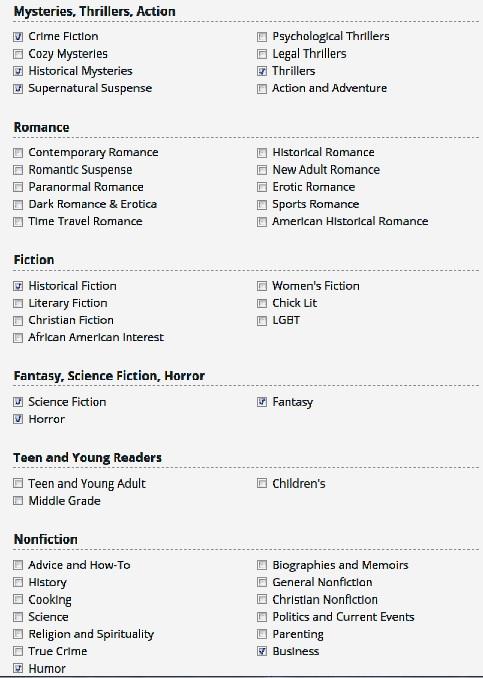 Just select the categories and/or authors that interest you and you're done. You can change your mind at any time by returning to the preferences page and updating the information there.
As you can see, there is also a section for young readers. This will be especially useful for beginners wanting suitable books to read.
BookBub will send you one email per day, with the special offers that should be of interest to you. There is no obligation to buy or download any items.
---
Who benefits from BookBub?
Basically, everyone can benefit from BookBub. They have discounted (and many free) ebooks for all levels and interests.
If you find that a particular ebook is not to your liking, simply delete it and have a look at another one.
I should also emphasise that the reduced price might only be for a day or two, but that once you have downloaded it, it will stay on your device until you delete it. There is no timescale within which you have to read it.
---
What does BookBub cost?
The service, with the daily emails, is completely free of charge. The only cost is if you decide to buy an ebook that isn't free. The discounted ebooks are usually around the $1 range.
If you only download the free ebooks, it won't cost you anything at all.
---
How to get free ebooks – summary
I think this is a wonderful idea and cannot recommend it highly enough.
I've been using BookBub for a while now and still look forward to seeing what offers are in the email.
If you're learning English as a second language, this provides a huge supply of extremely low-priced, or even free, quality ebooks that will help you to improve your English ability.

Do you already use BookBub? Now that you know how to get free ebooks, are you going to give it a try now? Please let me know in the comments below.