---
Introduction to EnglishScore Tutors
In this article, we will look at an online learning platform offering a service that is approved by the British Council.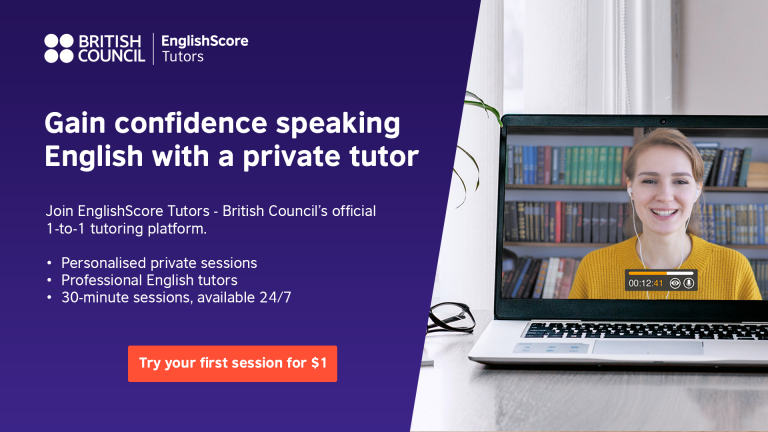 ---
What is EnglishScore Tutors?
EnglishScore Tutors is the British Council's official 1-to-1 tutoring service.
This is a group of qualified and experienced English teachers that offer individual English lessons online.
At the time of writing, over 12,500 English language learners have been helped by over 150 tutors.
---
How does EnglishScore Tutors work?
If you're interested in having private online English tuition, there are only a few steps that you need to perform.
Find a tutor
There are over 150 qualified and experienced tutors, with a wide variety of skills and specialisations.
There are many good reasons for improving a language. Whether you need to pass an exam, progress your career or travel the world, you will be able to find an EnglishScore tutor with the appropriate background and experience that suits your requirements.
Book and attend sessions
One of the criteria for finding a suitable tutor is time and availability. You might work strange shift times and tutors near you are all asleep when you have time to learn. No worries with EnglishScore Tutors! There will be a professional tutor somewhere in the world that is available at a time that suits you perfectly.
Each session is 30 minutes long, so you should have no trouble finding space in your day (or night!).
As everything is online, tutors are available 24/7, including weekends and public holidays. That's very practical for you.
Build a learning schedule
As you spend time with your chosen tutor, your requirements will become clearer and, together with the tutor, you can develop a schedule that is precisely tailored to your needs. This guarantees you a flexible and personalised learning experience to suit your busy timetable.
If you need more lessons in a shorter space of time, you're not limited to just one lesson a week. You can even have daily lessons if that's what you need to reach your goals.
Have fun and improve
Don't forget this very important aspect of the learning experience.
The lessons are enjoyable and, over time, you will notice that your confidence increases as your language skills improve.
---
Who benefits from EnglishScore Tutors?
I think it would be fair to say that there are no English language learners who couldn't benefit from this excellent tutoring service.
No matter your level, age, profession or location, there is an English tutor who will help you to achieve your language goals.
Here's what learners have to say about EnglishScore Tutors:
'Great tutors! Terrific lessons! Friendly platform!' – Adriano, 2021
'I've been using EnglishScore for nearly a year, and my learning journey is tremendous. Thanks to EnglishScore, I am given the chance to brush up on my English with very talented teachers. Also, I progressed a lot in many areas such as writing, reading and speaking.I can only recommend you subscribe and give it a try. This is so far the best technique I have ever used to learn English!' – Guillaume, 2021
Also, the average tutor rating across the whole platform is 4.9 out of 5. That's impressive.
---
The British Council EnglishScore app
As with most things these days, there is also a free app for your smartphone.
However, the app might share the name 'EnglishScore' but it has nothing to do with the tutoring service. Don't let this confuse you.
Basically, the app is a 40-minute language assessment that tests your grammar, vocabulary, reading and listening. At the end, you can buy your certificate.
As with most free apps, there are adverts that you might find annoying.
The test is quite thorough but you won't get feedback as to where you made mistakes. This is a deliberate choice to preserve the integrity of the test and keep the answers from being publicly available.
To reinforce the message: this app will not help you to improve your language but can be used to assess your level.
---
What next?
If you like the idea of personalised online tutoring from EnglishScore Tutors, there is a generous trial session that costs just $1, so you can try it out before making a financial commitment.
Please click the image below to book your $1 trial session.

Have you used EnglishScore Tutors? If so, please use the comments below and tell us about your experiences. We'd love to hear all about it.