Does Grammarly work? – introduction
This post looks at an increasingly popular writing tool and answers the question, "Does Grammarly work?".
---
What is Grammarly?

Grammarly is an online error-detection and correction tool that improves communication by helping people find and correct their writing mistakes. Not only does Grammarly suggest corrections, it explains the reasoning behind the suggestion.
There are three parts to consider:
the browser plugin
the MS Word plugin
the standalone application
The browser plugin is available for Chrome, Firefox, and Safari. The installation is very simple, a matter of a mouse click or two and it's installed and working. Whenever you're using the browser and type anything in, it is checked in real-time. Errors are underlined in red and suggestions are given when you mouse-over the error.
The MS Word plugin adds functionality to Word and Outlook and works in a similar way to the browser plugin. For some reason that is not 100% clear to me, when Grammarly is activated in Word and Outlook, the ctrl+z undo feature is disabled, as is the auto-save functionality. Forewarned is forearmed.
The standalone application is a standard windows application, with the same familiar functionality and features of the plugins mentioned previously.
---
How does Grammarly work?
English grammar does not lend itself to the simple application of rules. It is far too complex for that. Rather than a rule-based system, grammar checkers use pattern-matching. This can lead to false positives, which is why you have to know what you're doing. Grammarly is a tool and as such, needs to used properly.
For the user, it's not necessary to know exactly how Grammarly works – you can still drive a car without being a mechanic. It is necessary to know that there will probably never be a grammar checker that is 100% reliable. This is why you need to know what your text is about and make intelligent decisions concerning the Grammarly suggestions. If you do this, you will benefit enormously from using it.
As mentioned above, it checks the text and highlights any potential errors. I've introduced a few errors into the text above and taken a screenshot, so you can see what to expect.

As you can see, Grammarly found three genuine errors, with correct suggestions. You can get more information about the error, which appears like this: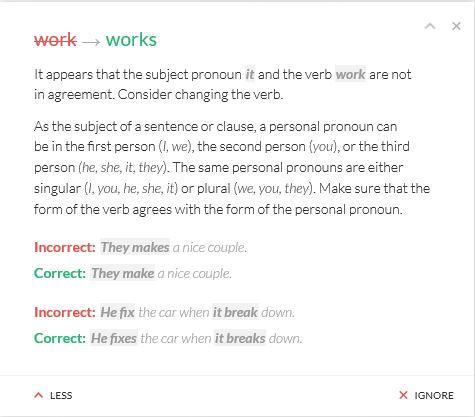 In this way, you have the opportunity to improve your grammar, rather than simply correcting it.
To accept the suggestion, simply click on it and your text will be updated. For false positives, click the ignore button.
---
Who is Grammarly for?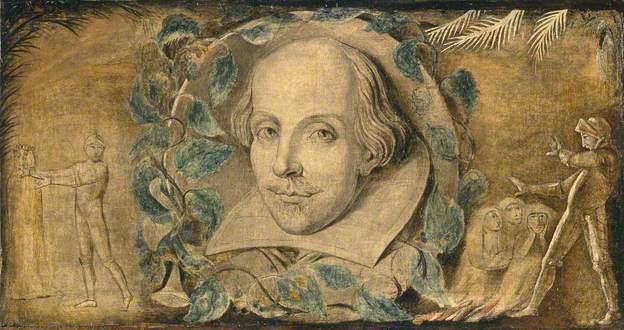 Let's start with who it's not for. It's not for anyone looking to replace a human proofreader for important documents.
Glad we got that out of the way.
Basically, Grammarly is for anyone who wishes to add another tool to help them improve their written English. Here are a few concrete examples.
Students can use it to improve the quality of their assignments
Teachers can check that the students have provided original content
Web-site authors and bloggers improve not only their writing but also their SEO rankings
Job applicants can improve their job prospects
Affiliate marketers create better copy which results in better conversions
Anyone on social media who wants to make a better impression
These are just examples, I'm sure you can think of others.
---
What does Grammarly cost?
There are two levels, namely the free and the premium. The free is exactly that. They don't require any form of payment and you can use the free version as long as you like.
The premium does have extra functionality, such as a plagiarism detector and vocabulary enhancer. These can be useful for academics and/or teachers checking for copy-and-paste cowboys.
The premium version price depends on how often you want to pay. The table below shows the various options.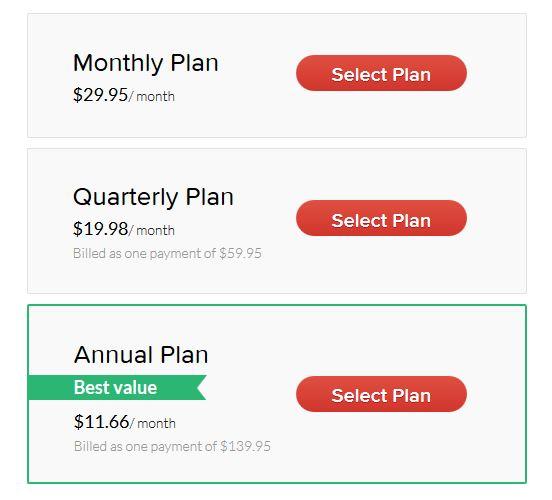 ---
Does Grammarly work? – Summary
Grammarly is an extremely useful tool and I highly recommended it.
The free version of Grammarly is definitely worth installing. The errors that it catches are going to help you a lot. Whether you upgrade to the full version or remain with the free version is a decision that only you can make. If you write a lot of text, you will probably want to upgrade.
Just bear in mind that the best hammer in the world is no use when you need to insert a screw. In a similar way, Grammarly is a great tool, but you do have to use it properly. Don't just blindly accept the suggestions without knowing what you're doing.
It is also worth repeating that tools of this nature will NOT replace an experienced proofreader.
Click the image to improve your writing skills and confidence now.

Does Grammarly work for you? Do you have a question? Please use the comments box below.